Spearfish Canyon is a State and National Forest Scenic Byway.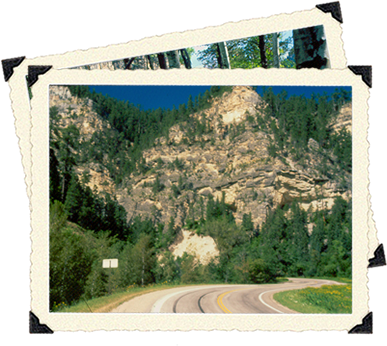 Welcome to the Spearfish Canyon Scenic Byway.  The twenty-two mile journey starts at Exit 10 off Interstate 90 in Spearfish, travels through its quaint business district, and connects to the mouth of the canyon at the Spearfish Canyon Country Club.  From here, it's twenty miles upward through natural beauty and unqiue scenery, ending at Cheyenne Crossing at the intersection of Highway 85.  Enjoy the Self-Guided Tour and Interactive Tour Map presentations in the menu to the left, and the other special views of the canyon including, montague of photos, aerial map, and elevation map.
Weather conditions in the canyon may vary with the elevations as the Scenic Byway climbs nearly 2,000 feet between Spearfish and Cheyenne Crossing...click here for canyon-vicinity weather.