The Spearfish Canyon Foundation (SCF) was established in 1989 through a generous gift from Homestake Mining Company to continue land stewardship of the canyon landscape.
It encourages and helps fund projects ranging from wildlife habitat, byway beautification and hiking trails to interpretation and land conservancy.
MISSION:
Its mission is to preserve Spearfish Canyon as a lasting legacy by promoting natural and cultural history, appreciation of the environment, responsible public access, and funding to enhance the infrastructure and ecology.


Spearfish Canyon State Park & Bismarck Lake
Land Exchange Between the U.S. Forest Service and the State of South Dakota
July 12, 2016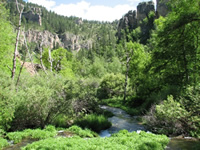 In 2006, the State of South Dakota received title to several parcels of property in Spearfish Canyon as part of a larger settlement between Homestake Mining Company and the State. These transfers allowed the state to invest in the preservation of some of the most renowned natural resources in the country. It also allowed for increased access and recreational opportunities in the canyon. Of particular success were the properties near Savoy known as Roughlock Falls. This area was experiencing severe degradation as a result of increased visitation and lack of effective management by Homestake. Immediately after the State acquired the property, improvements were put in place to allow for public use and enjoyment, while preserving the natural and scenic properties of the falls. 

The lush pine forest of the Black Hills is in grave danger. You have the opportunity to help.
We commit that 100% of your financial contribution to the Spearfish Canyon Foundation will directly support the battle against the damaging Mountain Pine Beetle.
The Spearfish Canyon Foundation has partnered with the Save Spearfish Canyon Coalition (SSCC), city and county governments, regional weed control agencies and countless concerned others. This united group of Black Hills residents supports the public efforts to control the pine beetle invasion before it completely destroys the forest.
Because the Spearfish Canyon Foundation is a recognized 501(c)(3) non-profit organization, your donation is tax deductible.